ONZE MASCOTTE MOOSE PHILIP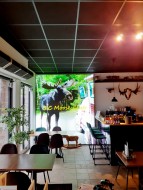 In 2015 we met Moose Philip in the Smålandet Safaripark in Markaryd (Southern Sweden). Moose Philip, born in 2008, was beautiful and kind of curious.
Early 2021 we decided, together with a young team, to start a bold Scandinavian Streetfood Restaurant.
We were still inexperienced, but eager to learn and passionate to serve our clients and... we all loved Moose Philip! So, Moose Philip became our mascot.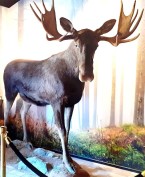 Some time ago, we got the tragic news that Moose Philip had died, Up till then he was the 'hero' in the Markaryd park. Actually, Philip had become the prime bull after having killed 'king' Harald in a fight. Pretty soon after his death, his son Gösta took over the leading role.

We visited Gösta, but since it was quite hot that day, he refused to pose for us.
But Harald's grandson Sven was friendly enough to meet and greet.