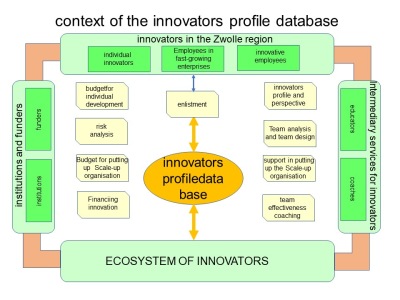 In the Zwolle region we are about to start the realisation of an Innovators Profile Database. We are aiming to register at least 75% of all innovative powers in the region in this database.

The Innovators Profile Database creates an important precondition for thre sysgtematic realisation of an innovators ecosystem.

The database will give us the insight in the 'market' of (potential) leaders and professionals, that can be reached as co-operation partners, where growing organisations feel the need of creating teams (Management Teams and Natural Working Teams).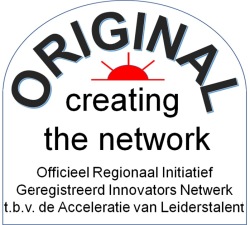 The initiative to develop the PDB is called
ORIGINAL:

Official Regional Initiative
for the
Registered Innovators Network
for
Accelerating Leadership-talent

The objective is to help Startups and Scale-Ups the become more successful in Value Creation, by accelerating the personal development and by helping them become good leaders for their fast-growing organisation.

The ORIGINAL initiative is a regional initiative, which can be followed by other regions.
A real ecosystem starts, almost per definition, regionally.
This does not mean that it will stay that way, also because of the national and international growth of the participating enterprises.

The individual participants in the network can be called Originals, a term that fits well with their innovative character.
The ORIGINAL initiative stands for
Accelerating the Careers of Entrepreneurs (ACE).