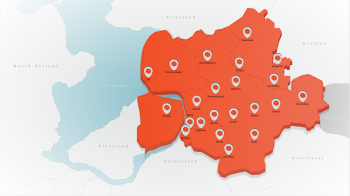 In the Zwolle region, the fourth economic region of the Netherlands, currently a multi-year planning is being developed (Grande Plan phase 2) for the further development of a Startup and Scale-Up ecosystem.
In this program four development lines are identified:
Line 1 - Knowledge & Talent
Line 2 - Market & Facilities
Line 3 - Culture
Line 4 - Capital
In program line 3 the building block Culture defines as follows:
1) the extent to which regional social-cultural aspects influence the ecosystem;
2) the extent to which the ecosystem is rooted in the fysical environment.
In this program line the necessary steps will be realised to develop emerging entrepreneurial talent, such that the entrepreneurial spirit can evolve in the direction of an innovative and sustainable entrepreneurs-mindset.
A mindset with which Startup and Scale-Up entrepreneurs dare to experiment and research, such that innovation can progress. A mindset with which entrepreneurs dare to take risks and learn from their mistakes.
In short: invest in entrepreneurship-development.

The line-up of a Regional Innovators Profile Database in thr light of this long-term program line is intended to offer individual innovators (participants) the possibility an accelerated individual development parallel to their steps of entrepreneurship;
to help Startup companies transform to a full functioning Scale-Up organisation with a strong and complete management team, fully equipped to successfully lead their organisation in a succesfull growth process.

The profile database (PDB) functions as a modern base registration for the innovators ecosystem. Participants will be registered in the PDB with an initial assessment with the Leadership Development Toolbox (LDT). The PDB will be used for the composition of complete teams and for organizing activities in the innovators network.

The innovators in the regional PDB derive from companies (e.g. members of the regional SME or larger organisations) and from the regional educational institutes (Windesheim, Deltion, Landstede, Cibap, etc.): students that wish to start their own innovative enterprise; the LDT-assessment can also help them with the choice of career-path.