Fika is a concept, a state of mind, an attitude and an important part of Swedish culture. Many Swedes consider that it is almost essential to make time for fika every day.
It means making time for friends and colleagues to share a cup of coffee (or tea) and a little something to eat.
Source: VisitSweden.com

Free Påtår in the BIC Moose Club
Who orders a cup of coffee in Sweden is often allowed to fill his cup for a påtår, a fee second cup.
This traditional custom dates from 1842 when the Swedish author Carl Jonas Love Almqvist (1793-1866) described it in his novel Tre fruar i Småland.
This established Swedish tradition we now also have implemented in the BIC Moose Club: when you order a 'fika' you are entitled to fill your cup for free for a påtår. FIKA is a cup of coffee/tea with something to eat.

Meeting your business partners
In Scandinavia, you organise your Informal network meetings with business partners generally in a konditori.
The Vete-Katten complex in Stockholm
is perfectly equipped for this with its living-room like spaces, where you may meet in a quiet surroundings for short discussions with your business partner.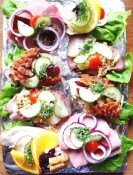 Small culinairy pieces of arts
A cup of coffee with a treat when you feel a bit hungry.
The Scandinavian version of a eating a sandwich is to enjoy one or more smörgåsar (smørrebrød).
A smörgås is a traditionally crafted small piece of art on Danish rye bread.
Initially the smörgås was a luncheon meal, today you can at it any time during the day, at every type of occasion.